Laverne Pribula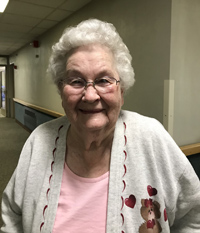 Laverne Doris McGrath was the third child of Arthur and Nora McGrath of Emerado, ND.
I was born in 1925 and grew up in the depression years. I had six brothers and sisters, Margaret, Leo, Dorothy, Lucille, Donald and Duane. Times were hard but I still remember the simple things that made me happy and thankful.
I graduated from high school but there were no funds or loans for college so I went to Grand Forks and worked for the A.A.A. office processing loans on grain and potatoes for county farmers. I also worked a short time at the selective service office, this is before I became the bride of Emil Pribula from East Grand Forks, MN. I met him at the Warren fair. We were engaged on my birthday February 23 and married on Emil's birthday June 14, 1944. We were married in St. Mary's Catholic Church in Grand Forks. We were married for 63 years.
We began our life together on a farm north of East Grand Forks. Over the next several years, I was kept busy being a farmer's wife and raising our six children.
On June 30, 1955 a tornado dropped from the sky, picked up our house and left it in shambles. Some of our children were injured, but thankfully no one was killed. It changed our lives. We left the farm as the house was completely destroyed, and we rented a home in Alvarado, MN for one year. The next year we bought a home in Warren. We attended St. Peter and Paul Catholic Church.
After the children grew up and left the nest, my interest turned to the genealogy department. I have written four books, two on my side of the family and two on Emil's side of the family. I also love making yarn hangers and doing jigsaw puzzles to occupy my time.
Emil and I have 12 children, Patrick, Mary, Donn, Curtis, Janette, Colleen, Howard, Elizabeth, Francis, Joanne, David and Mark. I have 23 grandkids, 14 great grandkids and 1 great-great granddaughter.