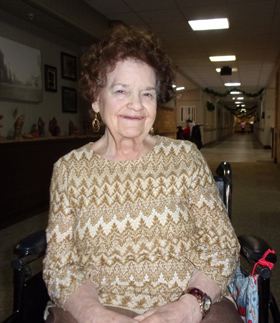 Maxine Witt
Maxine Witt has been a resident of Fair Meadow Nursing Home since June, 2016.
Maxine was born to parents Melvin and Myrtle Urness on a farm in Russia Township on February 22, 1937. A doctor was to attend to the birth but because of a snow storm was unable to get there so Maxine was delivered by a mid-wife and a helpful neighbor woman. She was welcomed by an older brother Milo and an older sister Marilyn. Later two more siblings, Mylan and Marsha were added to the family.
In 1039 the Urness family was able to buy a farm in Onstad township so Maxine attended Wayside Country School north of Melvin Station. She went to High School in Fertile graduating in 1954. After graduation, Maxine went to Fargo where she was employed at First National Bank. In the fall of 1954, she moved to Minneapolis where she was employed by Cargill Inc. When she married Walter Witt in September 1961, they made their home in Bloomington eventually buying a home there.
She was often visited by friends and relatives from northern Minnesota who came to the cities for business or pleasure. She also provided rooming for nieces and nephews who were seeking work in the cities.
Maxine retired from Cargill in 1997. She moved to Fertile in 2000. She enjoyed her homes and pets and shopping at Encore, also a little traveling. Maxine is Jehovah's Witness and has associated with Congregations in Bloomington, Fertile, and now Crookston.
Of Maxine's siblings, only Marsha Olson and husband Vernon remain along with Mylan's wife Janice, who lives in Crookston. Although not having any children of her own, Maxine has always taken interest in her nieces and nephews and their children.