Vern Leroy Erickson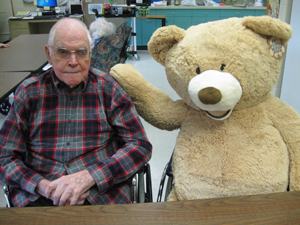 Vern was born in 1918 at A'Noonan North Dakota.
His parents were Martin and Minnie Erickson. He had one sister Mildred (Vernon) Dow. His brothers were: Willard (Doris), Rolland (Jeanette), Roy (Pearl) and Wayne Erickson. Vern went to school at Noonan and then to Moorhead.
Neither Vern or Wayne were ever married. They lived and farmed together until they retired from farming. Wayne always raised sheep and Vern had cows. Vern was in his 80's when he finally sold all the cows. This was a very sad day for him. He usually had around 80 head. They were his babies.
Vern is a member of St. John's Lutheran Church.
He went to Mexico and thought that was the greatest.
He went deer hunting, and that was always a big deal.
He took his camper up to the Beltrami State Forest up north. Clarence Roe and the Johnson Brothers along with Willard and Ted Nordheim also brought their campers. They had lots of stories to tell about wolves and moose. The roads were bad. Sometimes they had to cut trees that were blocking the roads. After snowstorms they went fishing at Cass Lake and always brought home fish for the cats.
Vern was always willing to help anyone out. He used to talk about the gypsies coming around. His mother would never let them camp in their yard. He said that some of his neighbors would lose sheep.
Vern enjoys talking about old times. He also likes to play games when children come to visit.
Vern entered the Fair Meadow Nursing home on December 10, 2010.