Dennis Skogstad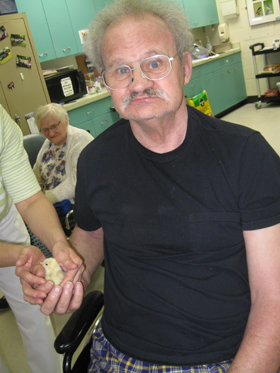 DENNIS SKOGSTAD is our September resident of the
month. He was born on January 29th, 1942 in International Falls, MN. His father was Arthur and his mother was Edna. His siblings include Sonja, Marion, Sydney, and Sally. Dennis grew up in Roseau, MN, spending much of his time in Pine Creek. At 17, Dennis joined the Navy, eventually being stationed
at Pearl Harbor in Hawaii. After the Navy, he worked many different jobs including mechanic work and driving truck.
Dennis was married to his partner Betty of over 30 years on November 21st , 2013. His children include: Sheri Anderson, Sandy Skogstad, Melanie Sikorski, Kim Skogstad, Jenny O'Hara, Nicole Clawson, and Arthur Skogstad. He has many grandchildren: Karissa, Simone, Aaron, Jamie, Darius, Jayfen, Keagan, Brittany, Jayden,
Blake, Abby, Oscar, Taber and Rylen. He also has greatgrandchildren: Kiara, Cash, and Blayden.
Dennis has lived in many different places throughout the United States, but has called Thief River Falls home for the last 20 years. He enjoys tinkering with motors, driving truck, and collecting guns.