Vivian Iverson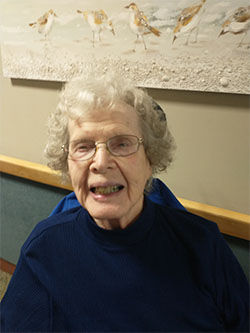 Vivian Vidden was born on October 14, 1930, to Herman and Christine Vidden. Her siblings are Harding, Vernon, Olaf, Evelyn, and Milton. She attended Lake View Country School, Fertile High School, and East Grand Forks Teachers Training.
For two years, Vivian taught in country schools in Fosston and Rindal, then was a substitute teacher in the Fertile School District. Vivian Vidden and Rueben Iverson were married on June 4, 1951, at Little Norway Church. Vivian and Rueben raised a son, Marlin Dean Iverson, who still lives at Maple Bay.
Rueben and Vivian were together for 54 years. He passed away in November of 2005. She lived most of her life in the Maple Bay. She is a long-time member of the Maple Bay Free Lutheran Church.
Her hobbies included reading, knitting, quilting, and crocheting.
She lived in the Maple Bay area until moving to Fair Meadow Nursing Home in 2015.